Please note: this brief post and the fuller discussion have been superseded respectively by:
https://www.dontthinkcheck.co.nz/blog/the-ten-forces-model-in-brief/
https://www.dontthinkcheck.co.nz/blog/the-ten-forces-model-industry-structural-analysis/
The Five Forces Framework (a model), "is a tool for analysing the competition of a business," and was invented by Michael Porter, and "first published in the Harvard Business Review in 1979." Wikipedia.org, September 2018.
The original model is represented in blue (square) boxes below. Over the years other authors have added to the model, the yellow (rounded) boxes, and there are other variants. Commentators have criticised the original model for its incompleteness and the augmentations for their incompleteness as well as their lack of conceptual purity.
Well, we're pragmatists. As with gloves, if the model fits (your purpose), use it! If it doesn't, and you can't modify it to make it fit (useful), then find another model or make your own.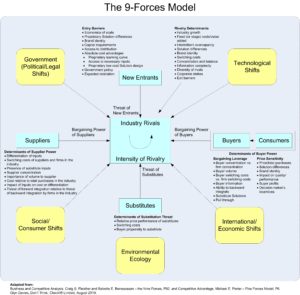 The blue (square) boxes suggest the types and intensity of the competitive forces a business may be impacted by. If an entrepreneur does not have a positive answer to these competitive pressures, then the sum of these pressures may mean that the business may struggle to become and remain profitable.
The yellow (rounded) boxes don't represent competitive forces, but more influences that buffet every business. Though the entrepreneur may not be able to avoid these and other influences, the entrepreneur must nonetheless be aware of their existence and both their positive and negative impacts.
For a fuller discussion, please see The 9-Forces Model – Industry Structural Analysis.